In a LinkedIn post, Lucas, a nomadic coworker, shared the pleasure he had in coming to work in the Wojo spaces. We contacted him to find out more about his experience in these lively coworking spaces, and to get his opinion on the services offered by the places where they are located. Spoiler alert: Lucas feels good at Wojo!
Until the spring of 2020, Lucas Radondy travelled the world on board the airline for which he was communications officer, before being hired by a New York communications agency at the beginning of March. The confinement and the health crisis forced him to delay his departure for the United States: while waiting to finally start his new professional adventure, Lucas is taking advantage of the opportunity to carry out missions in event communication and commercial animation.
Lucas, why did you decide to work in a coworking space, and how did you discover the Wojo spaces?
I do a lot of work on my computer, and it's good to have a change of scene to clear my head. I live in a flat share: going to work outside allows me to be fully focused on my tasks for the day.

I discovered Wojo at the end of the summer of 2020, in the South of France. I had a business meeting in Monaco, and was looking for a place to settle down and work before and after. I looked for a coworking space in Monaco and found the Wojo space located at the Novotel Monte Carlo. I found a closed space, well laid out, and a referent to welcome me. I really enjoyed the experience!
Since then, whenever I need to sit down to work somewhere, I use the Wojo app which shows me the spaces nearby.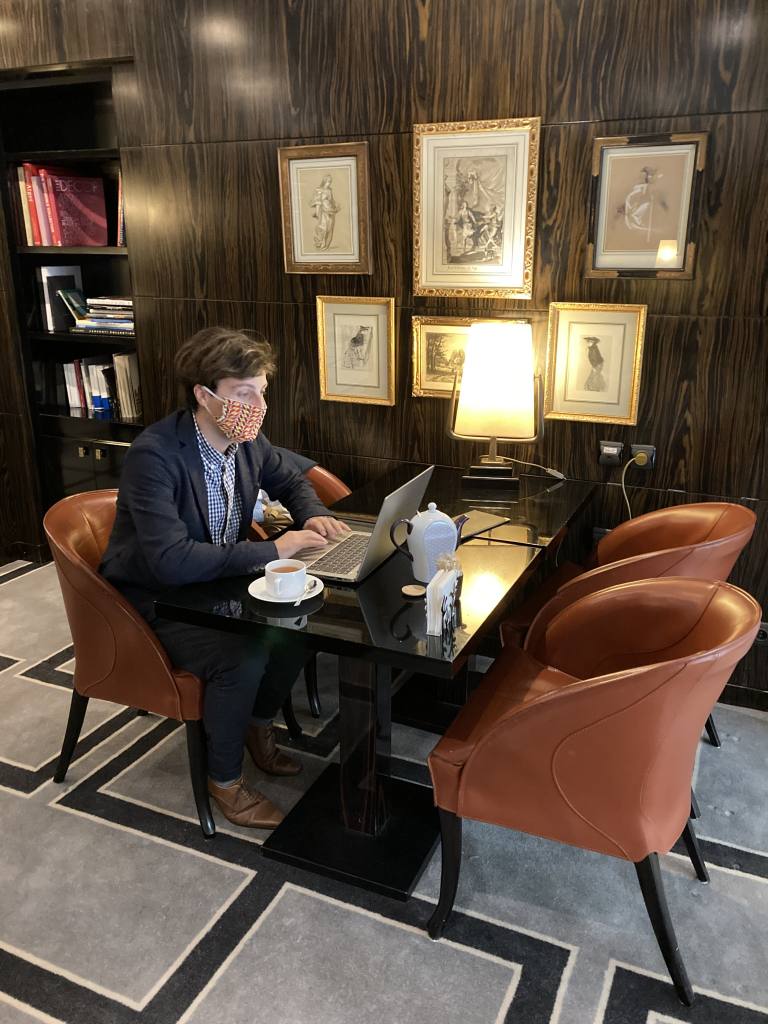 What did you like about the Wojo offer?
Everything is planned! Before I discovered Wojo, I was already used to sitting in hotel lobbies, having a drink. It's often quiet and you can work in peace. But with the Wojo app, a coworker can reserve a place in a Wojo space, ensure that there is an outlet to charge his or her computer, a high-performance wi-fi system, and moreover, one benefits from a discount on drinks and a welcome by a referent.
I also find the idea of the network very practical. When you're in a job where you move around a lot, it's important to easily find spaces where you can work in peace and quiet, in good conditions.

The Wojo spaces are located in our partners' homes, including many Accor hotels. As a coworker, tell us about the spaces that have made the biggest impression on you.
Back in Paris, I was delighted to discover the Wojo space at the Novotel Pullman Paris Centre – Bercy, which offers a very nice space, rather lively but still conducive to concentration.
I also really liked the Wojo space at the Pullman Paris Tour Eiffel, very well located in the centre of Paris. At the Wojo space at the Sofitel Le Scribe Paris Opéra, I discovered the Sofitel experience, which is really qualitative. The space is a bit more limited than in the other Wojo spaces, which is why it's worth booking! Everywhere, the wi-fi is of good quality, and I found something to connect my phone and my computer.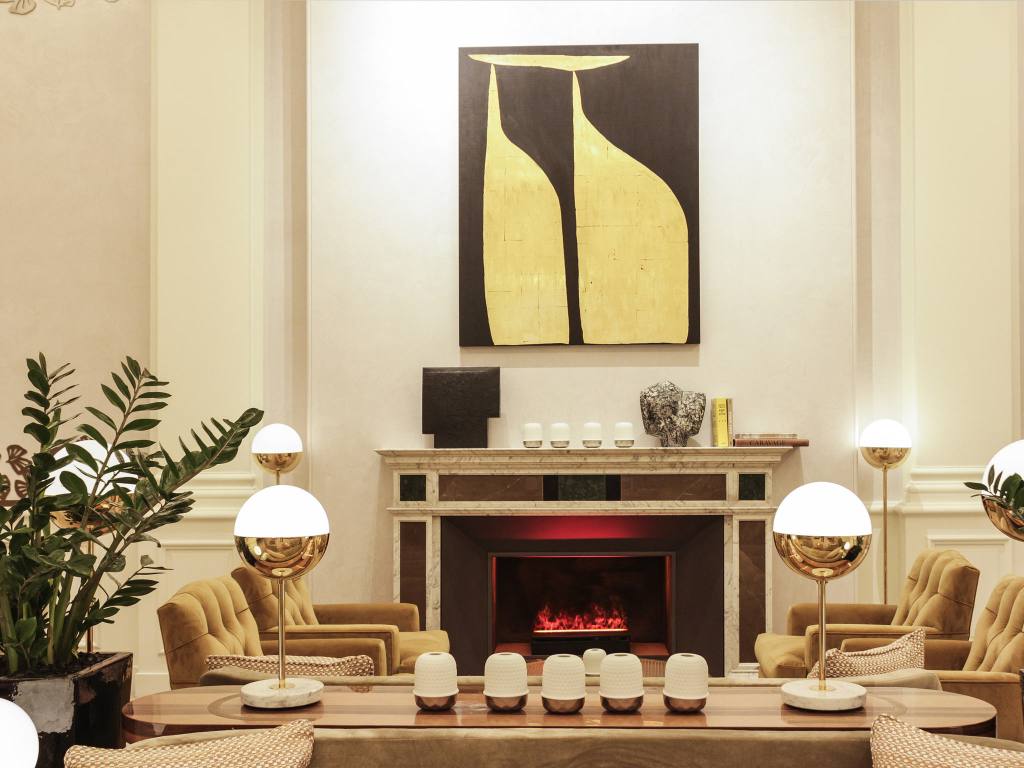 I particularly like the Wojo in the Mercure Paris Boulogne hotel. The configuration is really optimal for a coworker: you have the choice between settling in the common space at the bar, or in alcoves that isolate you from the noise and the view of others, with two integrated plugs, it's very pleasant.

Did you feel welcome in each of these spaces?
It's nice, as a coworker, you're really treated as a client in your own right, just like the users of the hotels where the Wojo spaces are located. Everywhere you are guaranteed a cosy place, with a wi-fi connection and an outlet for your equipment.

When you book your place on the web version or on the Wojo app, you get 10% off your consumption on site (bar and restaurant), and access to the hotel's services at preferential rates: fitness, spa, swimming pool, etc. I haven't tried it yet but I think it's a great offer!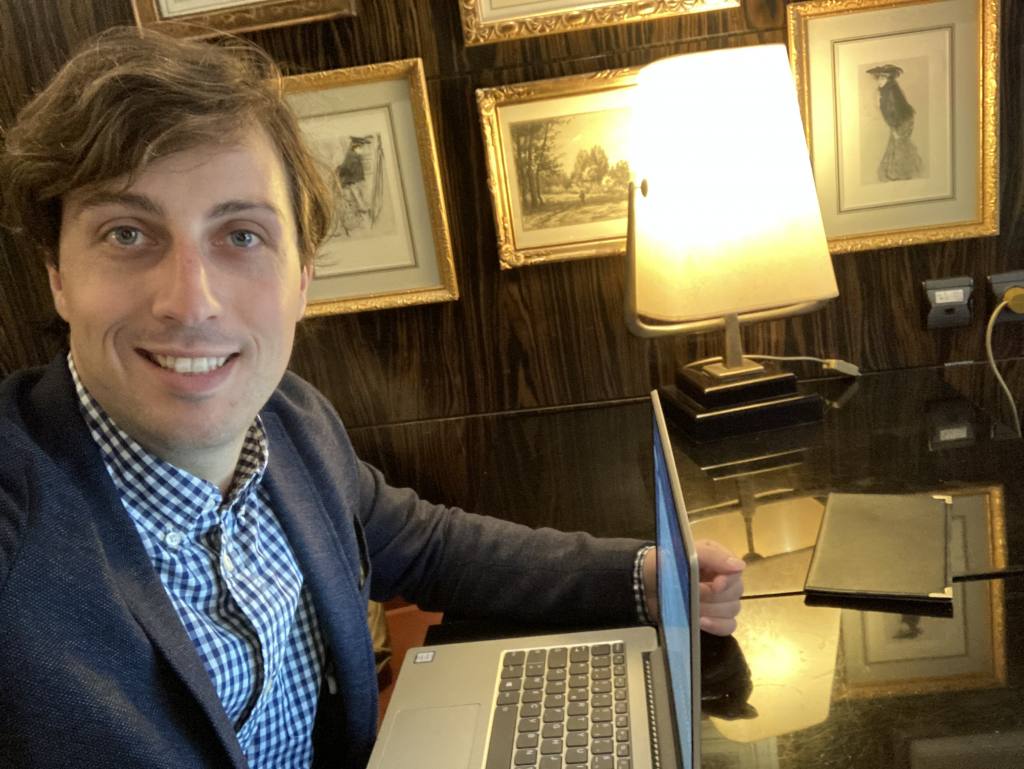 Thank you Lucas for sharing your experience as a nomadic coworker in the Wojo coworkings with us. We can't wait to hear your thoughts on our next open spaces in New York!
The Wojo coworking offer in two words:
More than 300 Wojo spaces are available in France and abroad, open and lively spaces offering furniture conducive to work, an efficient wi-fi connection and a plug for your equipment, in short, the essentials for the digital nomad. To access them, all you have to do is book via the Wojo application.