Coworking has become a very popular concept in the world of work in recent years. More and more numerous, coworking spaces attract a varied public: freelancers, mobile workers, entrepreneurs, employees of SMEs and large groups, etc. But why coworking? Is it just a trend or a real asset for users? Let's explore the advantages of this shared and collaborative work environment.
A quick reminder: what is coworking?
Do we still need to remind you of the fundamentals of this new workplace organization? Come on, if you insist, we'll be quick. Coworking consists in bringing together in the same place companies (large groups, SMEs, start-ups) and independent workers, who choose to share common spaces and services, with many advantages.
Advantage 1: when coworking rhymes with financial gain
One of the first advantages of the coworking model is the possibility of pooling the costs of its offices as well as those of the associated services (operation, maintenance, reception, catering, etc.) in order to optimize them.
For large companies
Companies that offer coworking memberships to their employees can realize significant savings on their real estate costs. They reduce the number of offices at their headquarters by organizing the days when employees come to work, while offering a better employee experience thanks to the flexibility and numerous services offered by coworking spaces.
They reduce their real estate footprint (rent, fixtures and fittings, etc.), but also the cost of services integrated into the workspaces (reception, catering, maintenance, etc.) thanks to the pooling with other companies.
For start-ups and SMEs
Entrepreneurs in the process of taking over or creating a company will appreciate the financial flexibility that a coworking offer brings them. They can adjust up or down the number of workstations they need according to their growth, switch at any time to a private office offer, while benefiting from attractive and well-serviced work spaces.
Advantage 2: Why coworking? To gain flexibility, of course
The great flexibility offered by coworking goes hand in hand with real financial and organizational flexibility. At Wojo, companies can increase or decrease the number of workstations dedicated to their employees according to their current needs.
If necessary, they can also :
To resort to the renting of dedicated office space, for a few days, or in a more perennial way if a project requires it;
Rent meeting rooms to receive clients and partners, organize professional training, gather a team for a day, etc.
All this without the constraints and administrative burden of traditional 3/6/9 leases.
Advantage 3: Work where you need to, when you need to
With Wojo, flexibility is also geographical. The 300+ Wojo coworking spaces are organized in a network in France and in Europe. Members can access them via a simple reservation on the Wojo app, and thus benefit from optimal working conditions wherever they are, for an hour, a day or a week according to their needs.
More and more large companies are choosing to offer a coworking subscription to their telecommuting employees, in order to allow them to work in an adapted and secure environment, close to home as well as while traveling.
Advantage 4: focus on your professional activity
Coworking represents a significant gain in time and productivity for business owners and freelancers. Already present on all fronts, they can rely on a team expert in business services, which manages the daily life of their workspace (printers, wifi network, reception of visitors, etc.). This way, they can focus on developing their business, perhaps through synergies with other members of their coworking space!
At Wojo, the Business Partners of each site know their members inside out, and thus contribute to fruitful connections for each other's business.
Advantage 5: strengthen your CSR policy
On the environmental side
Installing your employees in a coworking space goes hand in hand with a proactive CSR strategy. Why is this? In coworking spaces, environmental impacts are shared. The resources used for the operation and maintenance of the space are optimized in the same way as the m² used.
On the societal aspect
In terms of quality of life at work, Wojo offers a stimulating atmosphere and a qualitative work experience to its members, whether they are company employees, entrepreneurs or freelancers, with :
sports/wellness activities organized on site;
operations to support associations throughout the year;
a local and responsible catering offer;
work environments adapted to the different times of the day (social areas to meet, meeting rooms, phone boxes, quiet areas to concentrate, etc.);
numerous events (snacks, conferences, breakfasts, networking, etc.) to expand your network, benefit from the wealth of the Wojo community, and why not consider working together!
Freelancers are often confronted with two problems: the lack of a real workspace at home, and isolation. Working from home can certainly be practical to reconcile professional and personal life more easily. But not everyone has an ergonomic installation to work in good conditions (noise, no place reserved for work, etc.) and prevent the appearance of musculoskeletal disorders. Another black spot is the loneliness that self-employed workers who work from home have to face.
A response to isolation and the guarantee of good working conditions
For a freelancer, coworking spaces like those offered by Wojo break the isolation with a beneficial effect. They offer freelancers the opportunity to work in a stimulating and creative environment, with convivial spaces to meet other professionals, and why not work together.
They also prevent the risks associated with an inappropriate work environment, with ergonomic furniture, offices with natural light, secure and efficient wifi, and services designed to facilitate daily life.
A wide variety of work spaces to meet different needs
Shared workspaces also offer serviced offices and meeting room rentals. Freelancers benefit from a professional workspace that can meet their specific needs, such as an individual office to work on a sensitive file, or a meeting room to receive a client.
Advantage 7: working in inspiring spaces
Time teleportation, treasure island, Proust's madeleine… The design of each Wojo site tells its own story through an assertive design and original layouts. A day in a Wojo space is a real experience that stimulates creativity and productivity. Moving into these places with a strong personality is also a way to assert the identity of your company to your clients, partners and collaborators.
Also read: Office, my beautiful office, help me to work well today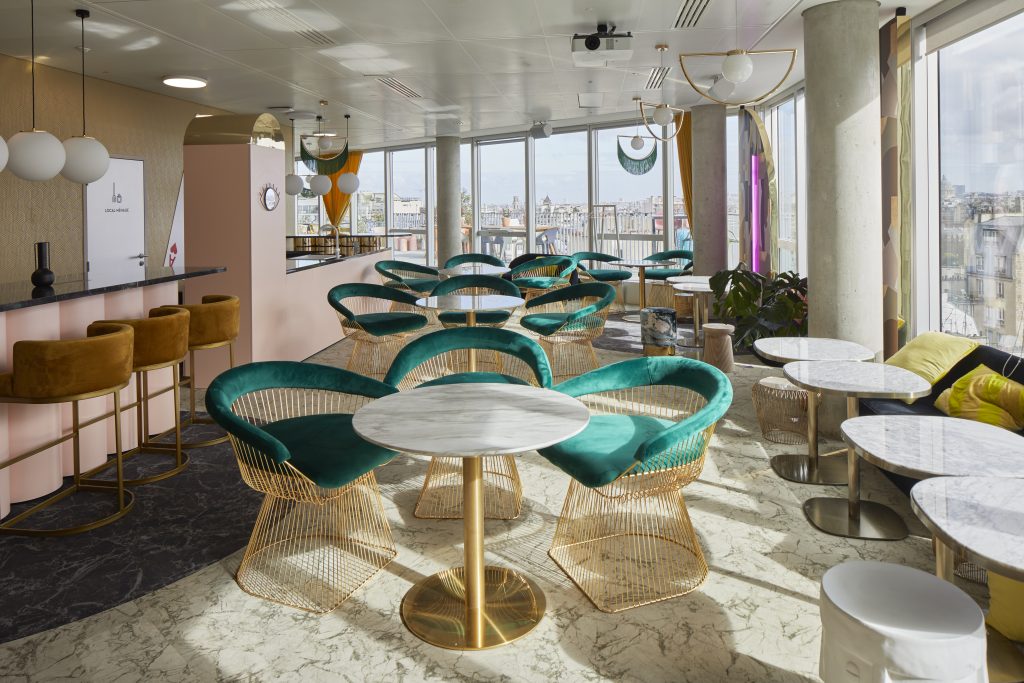 Advantage 8: retain your employees thanks to stimulating places
More and more companies are choosing to offer a coworking space subscription to their telecommuting employees. Why are they doing this?
These stimulating spaces offer an alternative to traditional open-plan offices, and enrich the network of collaborators thanks to the meeting of very varied profiles.
They reduce the time spent commuting to and from work while allowing employees to work in good conditions, away from home but saving precious time on transportation.
The coworking offer guarantees telecommuting employees an appropriate work environment, even at a distance from the office, which promotes their productivity and well-being.
The employees have a great flexibility in the spaces at their disposal, with meeting rooms to work in team, to organize their professional trainings, and / or to receive customers and partners, but also phone boxes where to make their calls, and finally private offices if needed.
Coworking, privileged places for corporate events
In addition to a stimulating and creative work environment, the Wojo coworking space teams also help companies organize their events. Seminars, training, press conferences, board meetings, client events, etc. Our expert teams offer turnkey solutions for all types of corporate events.
The last word
Coworking spaces provide many answers for freelancers and companies of all sizes. Growing start-ups find agility and financial flexibility. SMEs and large companies adapt to new work modes and gain in attractiveness by offering coworking subscriptions to their employees, with the possibility to switch to a private office rental if needed. Coworking users are immersed in a stimulating atmosphere that encourages collaboration and networking, and benefit from numerous services. In short, trying coworking is often like adopting it!